We recently completed a new branding package for Briarwood Baptist Church, a wonderful community church in Cordova, Tennessee. They wanted a new logo and brand that was modern in style, fitting for their suburban Tennessee setting, and communicated real, honest values. We created a brand with modern typefaces, bright and vibrant colors, subtle textures, and an overall fresh style.
We love how it came out, read on to see how all of the elements came together and get a glimpse of the items we created.
The Logo
Our project with Briarwood Baptist Church started with a new logo design: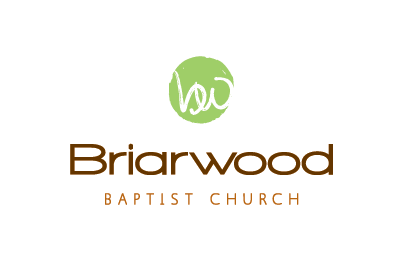 They wanted something that was very modern in feel but still very approachable and comfortable for their current and future church community. We came up with a solution that is a nice combination of sleek + hand-drawn elements to give them a new look that fits all of their needs.
We wanted Briarwood to stand out and be the element you saw first, so we chose a stylish and modern font that is clean-cut and has an extended feel. The words Baptist Church are slightly smaller to allow Briarwood to be most prominent, and set in a different sans serif font that compliments the Briarwood font well.
They wanted a symbol that could be used on it's own to represent Briarwood, so we created this hand-drawn, slightly imperfect circle with "bw" written inside to represent Briarwood. It softens the modern feel a bit, giving the logo a very real and comfortable look.
The color palette features a bright green that adds a cheerful note to the logo. A rich dark brown was chosen for Briarwood and fits well with the warm rust color used for the words Baptist Church. Overall the color palette, style and fonts all work together to showcase a church that provides a comfortable atmosphere with real people and warm connections.
Stationary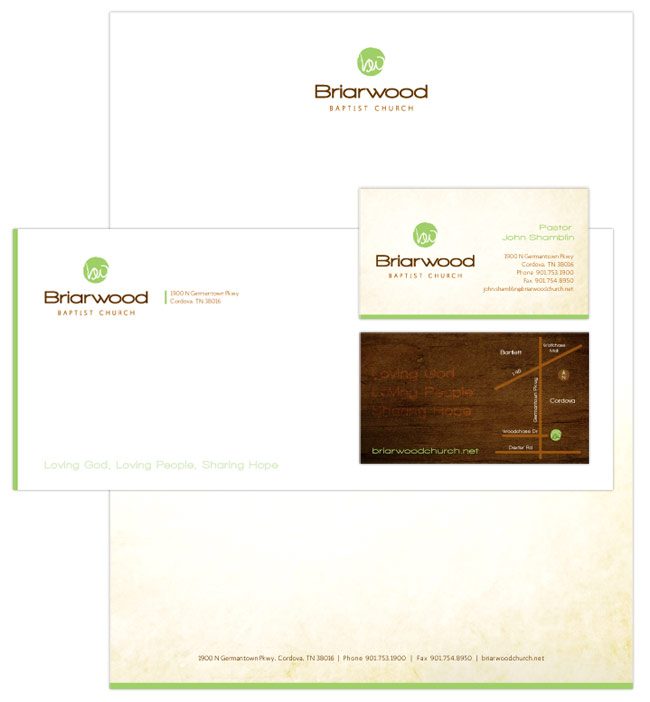 After the logo was finished, we created some stationary for Briarwood to use, utilizing the new logo we created and expanding on the style. We added some soft textures to the brand, including a warm cream-colored texture with a bit of a coarse feel. The back of the business card has a dark slightly gritty wood texture that provides a nice contrast and utilizes the rich brown color from the logo. Bright green is used an accent throughout these pieces to give a nice burst of bright color.
Other Materials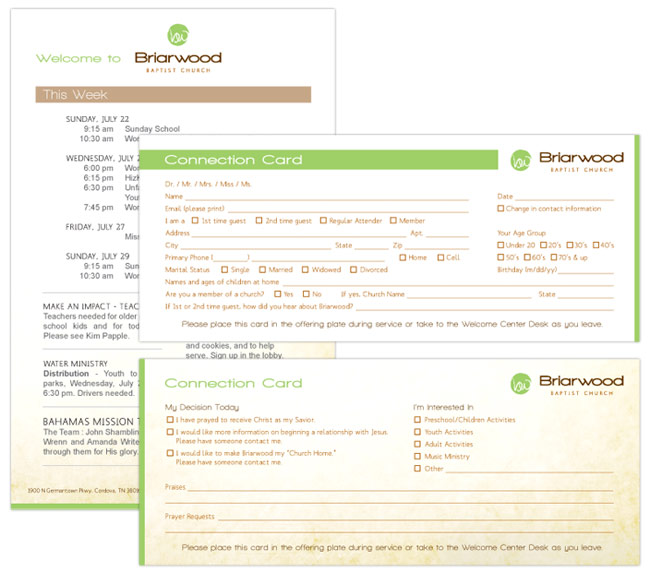 We created a few more pieces that Briarwood could use in their weekly services, applying the styles of their new brand. On the left is a template for the weekly Sunday program. This will be used each week to hand out to attendees, letting them know about upcoming events at the church and other announcements.
On the right, the connection card will be placed in the back of the sanctuary chairs, allowing new or frequent attendees to fill out as they like so they can connect more with Briarwood.
Testimonial
Pastor John Shamblin of Briarwood had this to say about working with Snoack Studios:
The process of re-branding our "look" to the community was a little intimidating to our staff. When we found Shannon and Snoack Studios she immediately gave us confidence in moving forward.  She listened, repsonded, and guided us through the entire process. What started as a logo design soon became a redesign of all our print materials. We were so pleased with her work that we intend to use her work on future projects. I cannot recommend any more highly the quality, attention to clients, and professionalism Snoack Studios gave us. Thank you so much!
We had so much fun working with Briarwood! They are a vibrant and amazing bunch – if you're in the area you should definitely swing by to say hello and check out their church. Let us know what you think of their new look in the comments area below!
2 Comments »
[...] New Website Launch: Ennis Continuing Education New Website Launch: Medi New Website Launch: Soleil O… [...]

[...] Tennessee and cannot wait to tell you more about it today in our post! We started with their new brand a few months ago and finished up with this new website in January. We absolutely love this new [...]
RSS feed for comments on this post. TrackBack URI
Leave a comment