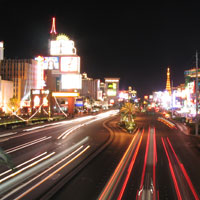 We are so excited to announce that we've moved to sunny Las Vegas, Nevada! We will dearly miss Grand Forks, North Dakota and all of our great friends and clients there. We had a lot of fun in North Dakota and enjoyed every moment of Grand Forks' midwest hospitality and its friendly people.
We're excited for this new chapter though, and we can't wait to get connected in the Las Vegas community and get to know all the great people here. We are continuing the same great services, providing creative web and graphic design from our new location.
In honor of our new locale, we got together a list of 10 great creative and artsy things to do in Las Vegas, Nevada if you come for a visit. Check out our list:
1. Visit the Arts Factory, which houses many artists and their galleries. It's free and open to the public everyday from 9am – 6pm.
2. Take in a Vegas Jazz concert.
3. Check out the Bellagio Gallery of Fine Art and the beautiful glass sculpture by Dale Chihuly on the ceiling when you enter the hotel.
4. Stop by the Neon Museum to check out some great neon signs from the past.
5. Go to Dinosaurs and Roses for the monthly Second Sunday event, featuring many local artists.
6. Take the Ethel M Chocolate Factory and Botanical Cactus Garden Tours.
7. Attend First Friday, a free street festival event where you can hear live music, see great art, and be entertained by street performers in the Arts Factory area.
8. Stop by the Venetian for a chance to see living statues, gondolas, street performers, and music inside the courtyard of the Grand Canal Shoppes.
9. Go to Harrah's and check out their Dueling Pianos.
10. See a Cirque du Soleil show at the Bellagio.
There are tons of things to do in Las Vegas, I know we'll be putting these things on our to-do list as well! What did we miss, do you know of any other creative and artistic things to do in the city? Tell us in the comments below!
0 Comments »
No comments yet.
RSS feed for comments on this post. TrackBack URI
Leave a comment