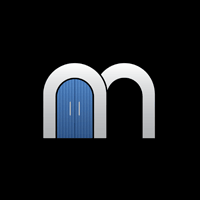 We've launched a great new website for Medi, a sophisticated, yummy and fun mediterranean restaurant in Arlington, Virginia. The design is full of personality, creating a fun and upbeat style for their place by using some funky and unique fonts, loads of textures (that echo the finishes in their restaurant), and a great color palette.
We started by creating their logo, integrating a blue door that's well-known in the Mediterranean (and can be seen on the front door of Medi). We also helped create menu boards, printed to-go menus, and ended with this awesome new site.
The Design
The restaurant itself is sleek and sophisticated, with modern Mediterranean accents, and a fun and playful vibe. We wanted all of the textures in the restaurant to play a big role in the website design so we included a bunch of those to echo the same feeling. The different layers give a unique look with a lot of depth. We incorporated hand-drawn elements on their menus and wanted to use this idea in the site design as well. So you'll see menu items that are hand-drawn, icons on the homepage, different frames on all of the subpages, and other accents throughout. These all add to the whimsical feel on the site and create a fun style.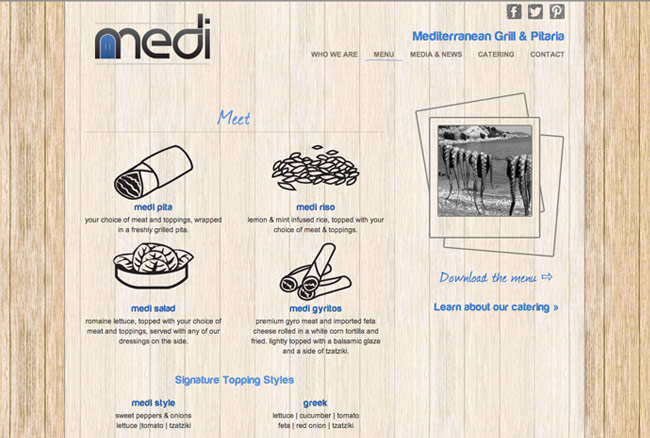 We mixed together a few different fonts for accents and headlines including a handwritten font and a fun and funky one, that give the site a great vibe. We created a great color palette to echo more of their great style by pairing brown and grey tones with Medi's bright blue color and other blue hues. The great photography featured throughout the site can also be seen on the walls in Medi's new place.
The Setup
The site is coded with HTML5, and is run by WordPress, allowing Medi to maintain the site on their own, adding updates as they need it. The site features their full menu, allowing customers to see everything that they offer before they visit. You can also read more about the founders and get in touch with Medi for more information.
Testimonial
We worked with Vicky Theodorou on the project and she had this to say about it:
Shannon & Snoack Studios has once again delivered a product that has exceeded my expectations. I look forward to the many more projects I can work with them on with the peace of mind that it will be relevant, accomplish my business goals and have a creative and current design.
Thanks Vicky and Medi! We had so much fun working on this whole project, and hope you'll check out the newly launched restaurant if you're in the area. Let us know what you think of the website in the comments below!
1 Comment »
[...] Website Launch: Ennis Continuing Education New Website Launch: Medi New Website Launch: Soleil Organique New Brand: Briarwood Baptist [...]
RSS feed for comments on this post. TrackBack URI
Leave a comment