We recently launched another great website, for Soleil Organique, an organic sun and skincare company with a great online store. They sell elegantly packaged products that look and feel beautiful on your skin so they needed a streamlined, clean and powerful website to cater toward their savvy clientele and match the elegance of their products. We moved this site over to WordPress for this launch, giving them a more powerful and user-friendly backend that will assist with sales, content management, and security of their site. Take a look at the newly launched site at soleilorganique.com.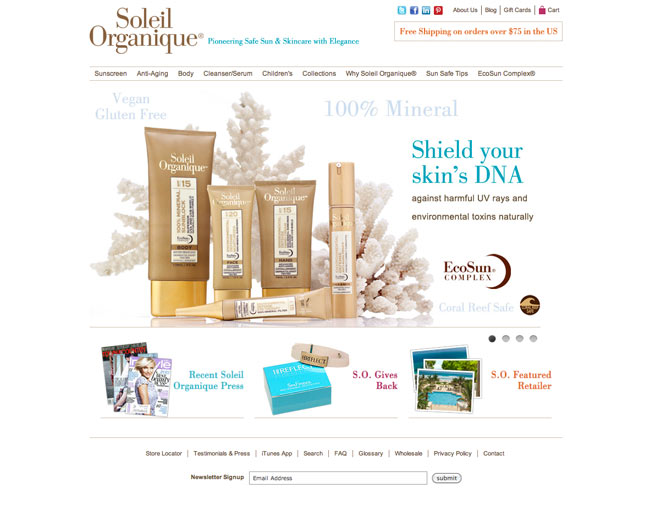 WordPress setup
Their website was already great looking, but the transfer to WordPress now provides them with so much flexibility, support, customization freedom, etc. WordPress is a smart choice for any website, but it works really well for Soleil Organique and their online store because of all the options it provides, and the user-friendliness that comes with it. They also feature a secure backend that is great for any online store.
While transferring to WordPress, we also made a few changes and additions to the design to streamline the site and layout even more. We added some great new tabs on their product pages to feature ingredients and instructions on how to use each product, while keeping the page and layout easy to use for their customers. We revised their Testimonials & Press area to better organize their many press mentions and allow users to see where they've been featured. We also revamped and streamlined the Store Locator page to better show their growing list of locations where you can buy their products in person!
Shop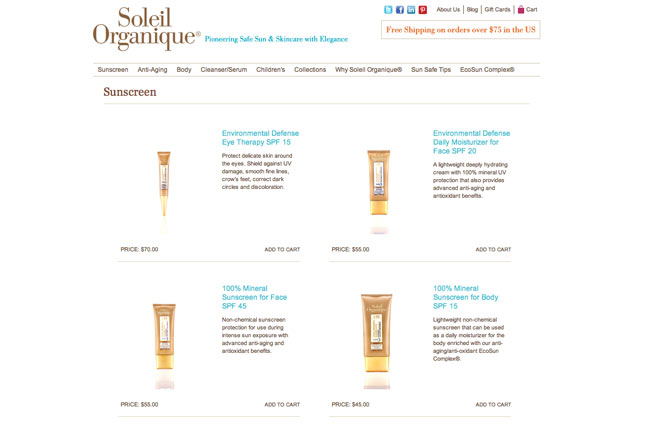 They have a full online store where you can purchase their products, and it's all run with WordPress' powerful engine. The shop setup provides more flexibility for their growing community and allowed us to make changes to the shop look, checkout process, etc. Everything is customized and setup the way that fits them and their company's needs best.
Testimonial
Valerie McMurray, owner of Soleil Organique, had this to say about working with Snoack Studios:
I have worked with Snoack Studios for over two years now and my experience has been nothing short of spectacular. Shannon is the utmost professional. She responds to my request typically within minutes no matter what time of day or night and consistently presents logical solutions and answers to any and all questions our team might have. Her work is extremely thorough and timely, and her attention to detail impeccable. Shannon has shown wonderful flexibility in her ability to convey the particular nuances of our brand personality through our website. She is always open to our feedback and will try her hardest to insure the product and presentation she delivers is in line with our vision. Most importantly, Shannon is a pleasure to work with. She is always upbeat and a genuinely nice person. It has been a truly wonderful experience working with Shannon and I would highly recommend Snoack Studios to anyone looking to build and support a spectacular web presence.
Thank you so much Valerie! We love the website and always have a lot of fun working with Soleil Organique! Head over to SoleilOrganique.com to check out their great products, and let us know what you think of their new site in the comments area below!
1 Comment »
[...] Website Launch: Ennis Continuing Education New Website Launch: Medi New Website Launch: Soleil Organique New Brand: Briarwood Baptist [...]
RSS feed for comments on this post. TrackBack URI
Leave a comment