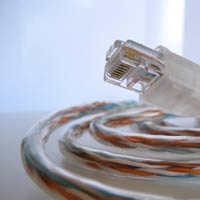 Finding a good web hosting company is not always an easy task, especially if you don't know what you're looking for. There are tons of terms involved with hosting that the average person isn't familiar with so they can get stuck with extra services and products they don't need. It's important to become familiar with the terminology, learning about what hosting means and what you actually need from your host. Many people go for the cheapest host they can find, which isn't the best decision, and could potentially be dangerous for your site and data. Read on to find how to choose what's best for you and what to watch out for.
What is Hosting?
You need to purchase 2 things to get a site up on the internet, hosting and domain name registration. Domain name registration allows you to use yourcompanyname.com. You can pay this yearly, or even pay several years at a time if you like and it's okay to find the cheapest provider for this one since all you're paying for is the name. Web hosting is where your data is stored. It's not recommended that you go with the cheapest provider for hosting, but rather the one that provides the highest quality service so your information stays secure and your site functions properly.
There are 2 basic types of hosting: shared and dedicated. Shared hosting is where your website is placed on the same server with a bunch of other websites and you share the same IP address. You usually don't get a choice with whom you share a server with. Dedicated hosting is where you get your own server, no one shares your IP address, it's just you. Shared hosting is cheaper because more people share 1 space, but this leaves you open to potential problems depending on the people you share your server with.
What Comes With Hosting
Storage is the most prominent selling point for most hosting packages and is offered in MBs. A fun fact, most of my clients need 50MB of storage or less (depending on what they are storing), however many large hosting companies offer huge amounts because people have become so accustomed to more and more storage on their computers. You most likely won't need 20 GB of space for your site unless you're podcasting or storing an enormous amount of photos. Don't feel pressured to buy so much space because you can almost always upgrade without penalty if you find you need more space later on.
Bandwidth is another term that you'll see used on hosting websites. The speed of your site depends largely on your host and the hardware they run. It is also dependent on the amount of people sharing your server and the amount of bandwidth available. Bandwidth is defined as the data transmission rate, which translates to speed and space allowed on your server. Too many people on 1 server with too little bandwidth equals a slow server.
Email is tied in with your hosting, making security, speed and uptime a big priority. Being able to use yourname@companyname.com is great, but if your hosting is slow, your emails are going to be affected as well. What happens if your site goes down due to cheap server hardware and poor tech support? Your email goes down too, and that isn't something you should compromise on.
What You Need
For your hosting you should demand several things:
a speedy and efficient server
good customer service
excellent security
emails included
and superior uptime
If you aren't getting these things from your server, you're getting a bad deal.
What to Watch Out For
Many hosting providers get you by offering hosting for really cheap and including a ridiculous amount of space. Be aware that big hosting companies make their money by cramming too people on shared servers, making them run slower and less efficiently. Your best bet is to look for a host that values quality and doesn't promise the lowest rates out there.
Since we would only use a quality host for ourselves, we can only recommend quality for our clients. In order to ensure that quality experience Snoack Studios provides premium hosting for our clients only, no random signups from the internet. That way, we control the quality that's on our dedicated server and our clients don't have to share an IP address with spammers or hackers. We pride ourselves on great customer service, taking care of all issues promptly and efficiently. And we include unlimited emails because we feel that's important and you shouldn't have to pay extra for it. We don't promise the lowest rates out there, but we do offer competitive rates for the value you receive. Find out more at snoackhosting.com.
1 Comment »
[...] you're running a professional company with services worthy of purchasing, so choosing the cheapest hosting for your top-notch site  is not going to be your best bet. The hosting company you choose is an [...]
RSS feed for comments on this post. TrackBack URI
Leave a comment