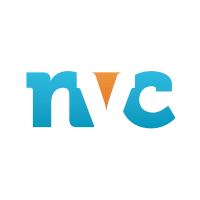 We recently launched a new brand for Northern Valley Careers, including 2 new logos, a branding guide, and a website, and we love the new look! The organization focuses on educating youth on career opportunities in the region, helping to retain valuable leaders and workers in the area by giving them information and resources. The organization started by putting on a yearly expo to expose students to the opportunities out there and decided that this year they are looking to really expand by creating a new look that will help them elevate the whole brand.
We started by designing a new logo for Northern Valley Careers, and revised their existing Expo logo to match the new look. We expanded on this, creating a branding guide that details more about the logos and how to best use them, including other notes on style ideas for other marketing items. We also created a brand new WordPress website that gives tons of valuable information about the organization and the Expo, which will be helpful for students and local businesses alike.
Logos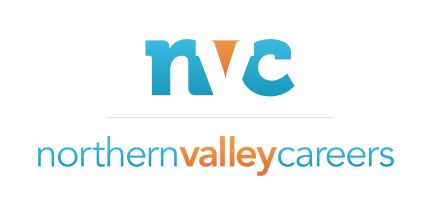 The logos are clean, professional, modern and are approachable for the two audiences that the organization targets: high school students in the area as well as local businesses and organizations. They both have a youthful look with bright colors, and mostly sans serif fonts. The organization's logo has a unique symbol that they can use on its own that combines NVC together, using the white space to create the "v". The expo logo also features professional people in careers that students may be interested in pursuing in the area. These people can also be used on their own or to add to the design of a marketing piece.
Branding Guide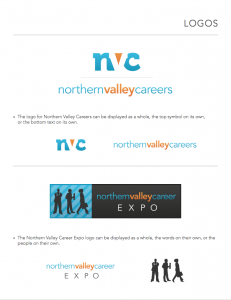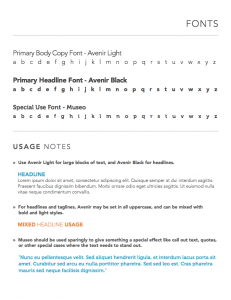 The branding guide serves to help the organization with future marketing materials that they create. It includes do's and don'ts with using the logos, fonts and colors to use, as well as other style ideas that they can incorporate to add more to the designs they put together. The guide will be helpful for the organization as many people could be working on items for the group, and they will just need to refer to the guide in order to stay in line with the new brand.
Website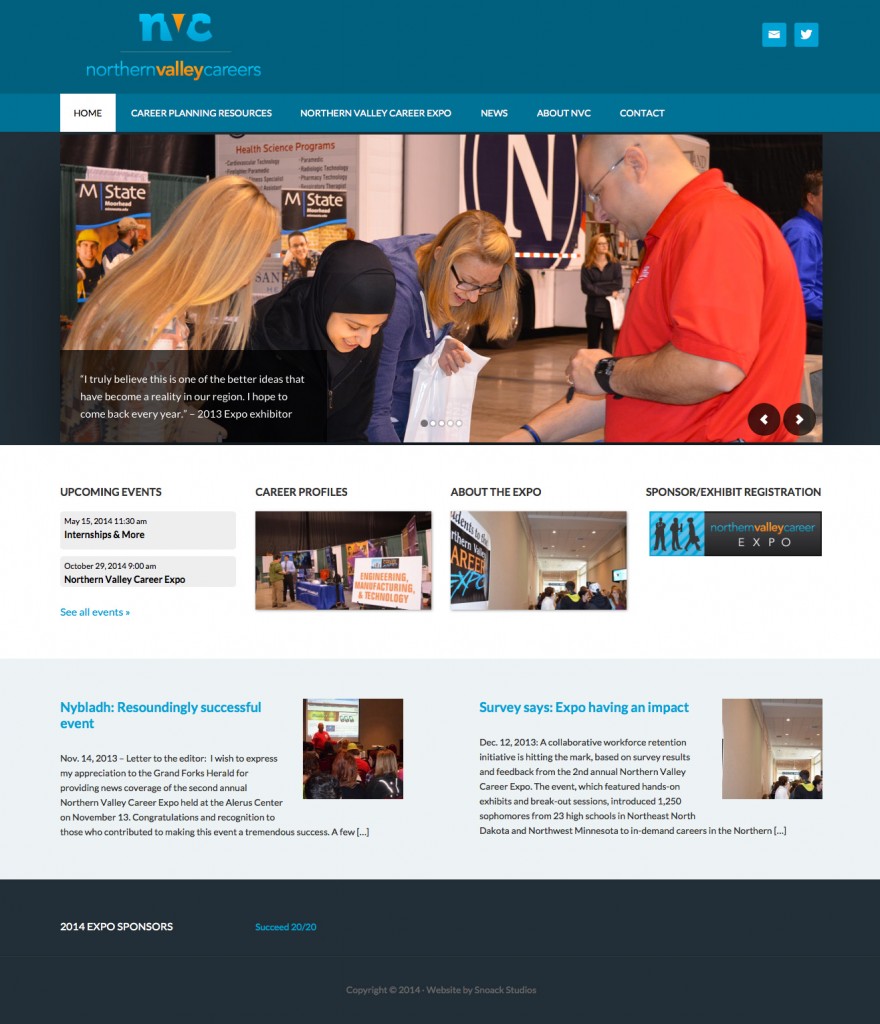 The new website falls right in step with the new brand: clean, modern, professional and stylish. It features many photos from previous expos that they organization has put on, giving students an idea of what to expect in future years. Students and professionals in the area can also read more about the organization, see upcoming events, and get all the information they need on the upcoming expo including sponsors, exhibitors and more. The WordPress website is also responsive, allowing people to easily view this site on mobile devices and tablets.
Testimonial
Doris Cooper is a member of the Task Force with Northern Valley Careers, and had this to say about working with Snoack Studios:
Based on a referral from another Snoack client, we approached Shannon to refresh a logo and design a website for a community project. From the proposal we received to the project's completion, Shannon outlined and provided a professional, well-executed product. Our committee was initially somewhat boxed into a logo, yet Shannon took the initiative to offer a suggestion that won over committee members, elevating the image of our event. In building a website, she took time to learn as much as she could about our goals and objectives with the site, offered us multiple templates for consideration, and once we selected it, quickly turned it into our site. She provided great instruction for us to maintain the site going forward. It's obvious in working with her that Shannon is a skilled web designer. Her clean, appealing graphic design style provided our committee with a visual brand that will be instrumental in providing us the tools we need to better-position our efforts to the audiences we are targeting.
Thank you so much for the kind words Doris! We greatly enjoyed working on the project as well, and love how it all came out. Check out the new site and brand at northernvalleycareers.com and let us know what you think in the comments below!
0 Comments »
No comments yet.
RSS feed for comments on this post. TrackBack URI
Leave a comment