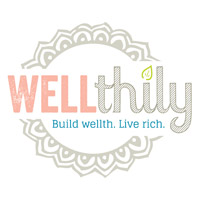 We recently completed a new brand for Wellthily, a new health and wellness company opening in Las Vegas, Nevada. Their mission is to change the meaning of wealth by inspiring people to lead happier and healthier lifestyles. We came up with a great logo and 3 variations that they can use on different types of materials and applications throughout their marketing materials and in their new space. We love the combination of fonts, colors and styles that the brand uses to convey a healthy and youthful look that will hopefully inspire many people to live Wellthily.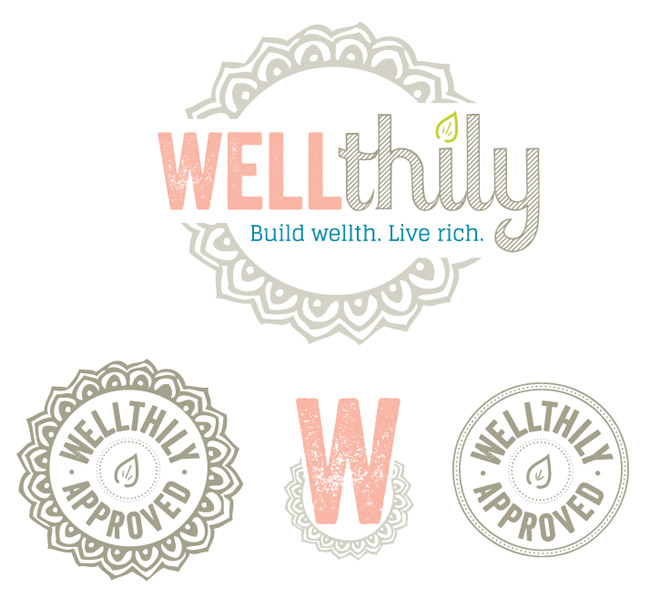 The Logo
The main logo is featured on top in the above image. We combined 3 different fonts that are modern, a bit feminine and very unique. The name Wellthily combines "well" and "healthy" and we wanted the word "well" to stand out with it's own font and color. The next part of the name, "thily" complements the first part of the name and adds a lot to the character of the design. The bright green leaf symbolizes everything that Wellthily stands for, youth, growth, sustainability, and health. It's used throughout the variations as a symbol for the company, and can stand on it's own too. The stamp around the logo also brings a lot of character and adds a great all-inclusive touch to bring it all together.
Logo Variations
The ornate approved stamp on the bottom left will be used on menus or other applications to show that this is a Wellthily-approved service or restaurant. We wanted something that matched the logo but was a slight variation on it. The other approved stamp, on the bottom right, is a simplified version that can be used in smaller applications. The bottom middle variation is to be used as an icon when the others are too much or just when something simple is needed. Each piece is unique on its own but complementary to the brand and everything they stand for.
Wellthily will be opening later this year in Las Vegas, Nevada and is a partner of the Downtown Project. We had a lot of fun coming up with a new brand with Wellthily and can't wait to see all the great things they have in store for the city. Check out their site to stay informed for when they launch and open their doors!
0 Comments »
No comments yet.
RSS feed for comments on this post. TrackBack URI
Leave a comment