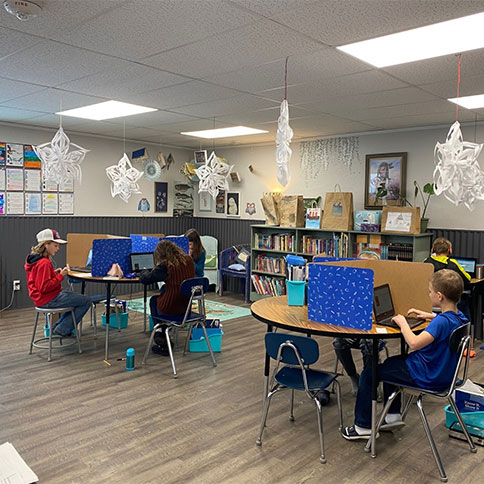 We launched a vibrant new website for FernWaters Charter School in Salmon, Idaho earlier this year, and we love how it turned out! The custom design includes kid-friendly fonts, a bright color scheme, large photos, and icons throughout that all add to the character and charm of this new site. The local charter school wanted a fun and friendly website that gave current and potential new parents of students at the school, an easy to navigate website so they could quickly find what they're looking for and learn exactly what FernWaters is all about and what makes them different.
The Website
This colorful new website is a custom design, created just for FernWaters and their needs. They wanted the fun and vibrant personality of the school to shine through the design, giving everyone a glimpse into their classroom and all of the fun and different things they provide. We used lots of great photos throughout the site that capture the students learning and enjoying their time at school. Icons also help illustrate fun things like their STEAM and Coding program, as well as how Art and Music are incorporated into their weekly activities. We also helped streamline and organize their required documents in the Administration & Governance section of the site, helping keep that page easy to navigate for people that need it. Their Application as well as their Enrollment documents are now all online, making it quick and easy for people to apply and fill out the documents needed for their students.
Testimonial
Kristin Foss, superintendent of FernWaters, had this to say about working with us:
The FernWaters team loved working with Shannon and Snoack Studios. Shannon listened, gave suggestions, invited feedback, and ultimately created an appealing and functional website for us. We highly recommend Snoack Studios!
Thank you so much! We loved working on the website and couldn't be more pleased with the outcome as well. Check it out at FernWaters.org and let us know what you think in the comments below!
0 Comments »
No comments yet.
RSS feed for comments on this post. TrackBack URI
Leave a comment