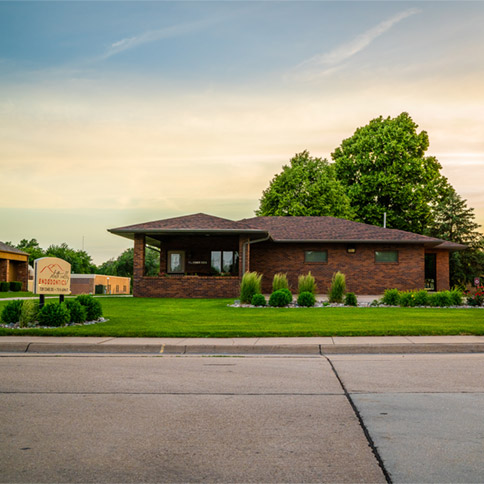 We recently launched this ultra clean and beautiful new custom website for Platte Valley Endodontics. Their mission, "is to deliver the highest standard of professional care, create a positive experience, and improve the negative stigma associated with historical root canal therapy." We used beautiful photography throughout the site featuring photos of the office as well as photos around Nebraska. Subtle textures along with the bright orange color from their logo and a modern sans serif font choice complete the look. Check it out at plattevalleyendodontics.com.

The Website
The website is powered by WordPress and features a new custom design that we created just for them. When we set out, the staff wanted a user-friendly website that was modern and bright. They also wanted the design to be calming and reminiscent of their office, which features a lot of great textures. Professional photography of their office, staff and artwork are featured on the site, which really shows off their great space. Lots of white space and some soft, rich textures give the site a lot of character and makes it feel just like their office. Bright pops of their logo's orange color are used throughout the site, as well as a modern sans serif font that was chosen to compliment their logo and brand. Usability was very important to them, they wanted their patients and prospective patients to be able to navigate the site easily, so we made sure the layout is streamlined and everything is well-organized. Overall, we created a user-friendly, modern and clean design that functions well and looks beautiful.
Testimonial
Chris Golka with Platte Valley Endodontics had this to say about working with us:
From our first meeting with Shannon to the finishing of our website was a joy. Shannon was so easy to work with. She listened to our ideas and incorporated them into a beautiful website. We are truly satisfied with our website and would recommend Snoack Studios.
Thank you so much Chris! We really enjoyed working with Platte Valley Endodontics and think the site came out beautifully. Check it out and let us know what you think in the comments below!
0 Comments »
No comments yet.
RSS feed for comments on this post. TrackBack URI
Leave a comment