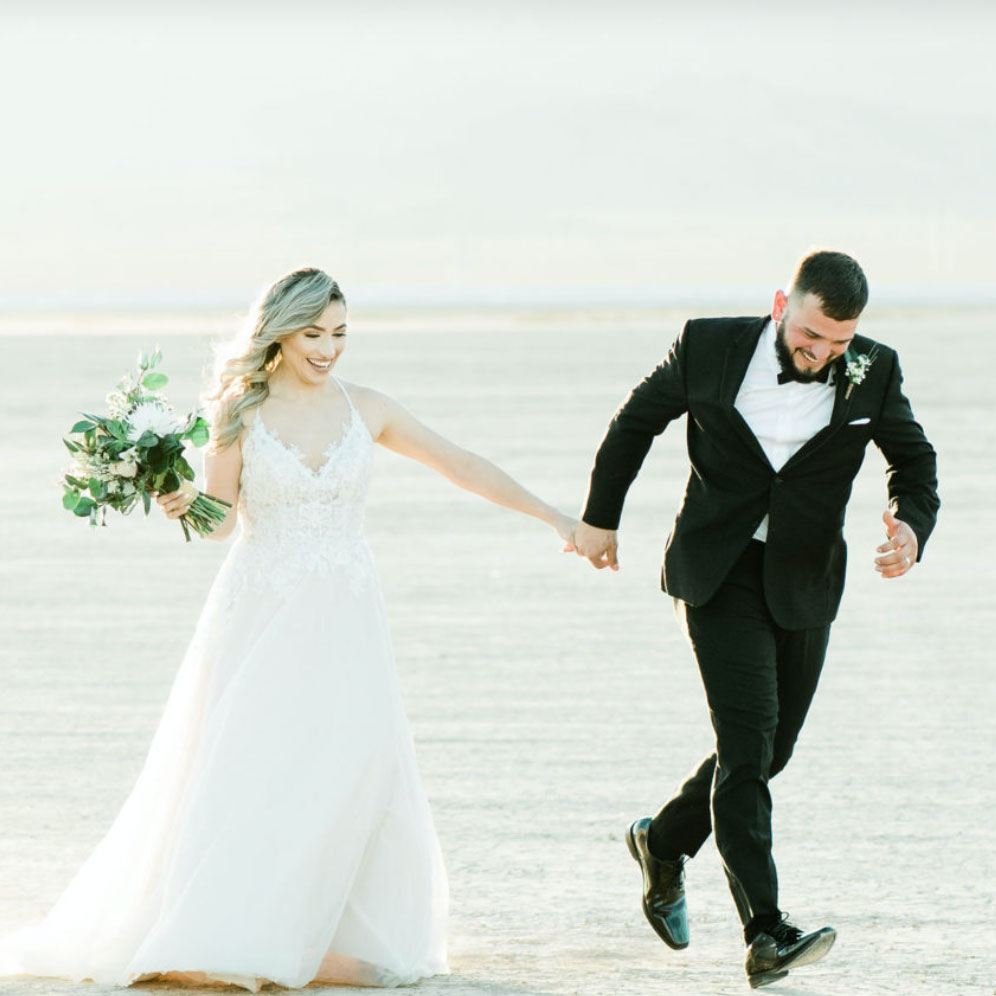 We launched a new website for Cactus Collective Weddings late last year and one for Electric Sugar Elopements early this year! Both websites are for a group of elopement and wedding coordinators based out of Las Vegas, Nevada, offering package services to help couples easily plan their whole wedding. The websites tailor to different audiences so they wanted a similar structure with the websites, but completely different styles and different information on each that target the audience they're looking for. They wanted interested couples to be able to easily find all of the information they needed on the websites, as well as what's included in all of the packages, allowing their beautiful photography to really shine.
Cactus Collective Weddings

Cactus Collective Weddings has a classic style that's modern and elegant and we wanted that to come across on the site through striking photography, a soft desert-inspired color palette, and a pairing of modern + elegant fonts.
Electric Sugar Elopements

Electric Sugar Elopements targets a different audience through the verbiage on the site, and photography and fonts that are edgier and would appeal to a more alternative audience.
The Details
Both websites are using the Divi theme, customized to fit their needs. Beautiful and striking photography is their main focus, so we wanted to make sure they were showcased throughout the site. At Cactus Collective, they have 3 different locations, and they offer multiple venues at each place, so they needed a way to organize them all so customers can view and select what fits their vision best. We set up a way to easily see all of the different locations and venues, so couples could quickly see the differences in all of them and choose their perfect place.
Testimonial
McKenzi Taylor, owner of both companies had this to say about working with us:
I have worked with Snoack Studios since the beginning of my business life. Shannon is the absolute best. She understands what I need/want but puts it in non technical terms that helps me. She is a wealth of information and skill. She also worked with my digital marketing specialist hand in hand to help make all my websites come together. So far I keep returning year after year for new websites and new brands. Love her!
Thanks McKenzi! We always enjoy working with you as well! We love how both sites came out, so different and unique, yet similar in structure and layout. If you're in the market for a thoughtful and beautiful wedding in the Las Vegas, San Diego or Black Hills areas, we highly encourage you to check out Cactus Collective Weddings & Electric Sugar Elopements to see more. Let us know what you think of the new websites in the comments below as well!
0 Comments »
No comments yet.
RSS feed for comments on this post. TrackBack URI
Leave a comment