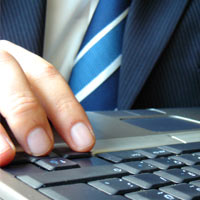 Search Engine Optimization (SEO) is the practice of making sure your website is best set up for search engines, and boosting your search engine rankings in the process. It's not always as simple as that, search engines use a pretty complex algorithm to determine rankings, but there are many things you can do on your own that will give you a good start. We have a few tips below that will be helpful in learning more about SEO and what goes into it, and what you can actually do to help. SEO should be an ongoing process though, so make sure to keep up with it to have a strong position for your company.
Unique Page Titles & Descriptions
Page titles are included in the code of your website, but you can see the title at the top of your browser when you're visiting a page. Search engines like these to be unique for each page, and not just your company name, but something that is descriptive for the page you're on. Page descriptions are a more detailed description of the page, a couple of lines telling search engines more about what's on there. These are both great opportunities to include great keywords that you want to be found by.
Relevant and Rich Content
This is becoming more and more important for search engines, they want your content to be relevant to your users and not just written to perform well in searches. They are actually lowering your search results if it appears that you have fluff that isn't relevant for users so make sure to write content that your users will appreciate and enjoy, don't just target search engines.
Domain Registration
Your site is looked upon more favorably if your domain registration isn't set to expire in the next year so make sure to keep this paid for a few years in advance. The longer you've had your domain registration is also better for you so hold onto your domain name.
Inbound Links
Sites that link to your site are like a vote of confidence for search engines, they feel like you're being endorsed and so you get an SEO boost from it. Bigger sites give you a bigger boost, so make sure to list your site on all your social media profiles. There are also tons of places to list your site like local directories, and possibly websites within your industry. You can also comment on other blogs, join communities, etc. Find what works best for your company, but work to get your site out there!
Image Alt Tags
Most content management systems will give you access to set an alt tag for your images. When search engines crawl your site, they read this text and use it to rank you. The more they know about your site, they more they have to rank you by, which is in your best interest. So although this is a small step, it's helpful to do anything you can to boost rankings.
SEO is a complex process so this certainly isn't an inclusive list of everything that needs to be done, but a starting point with a helpful list of things you might be able to do on your own. Make sure to also stay on top of monitoring these things so your website can continue to perform well and move up in rankings. Check out Website Grader for more helpful tips.
What's something you've done to boost your search engine rankings that's worked well?
1 Comment »
[…] 5 SEO Tips That You Can Use 5 SEO Tools That Anyone Can Use […]
RSS feed for comments on this post. TrackBack URI
Leave a comment