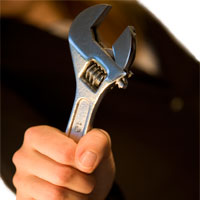 SEO is a huge buzz phrase, everyone wants to know what they can do to increase their search engine rankings. We've given you some quick tips on increasing your rankings, but today we'll talk about some tools to monitor and track things on your website. All of the tools we'll talk about today are free as well!
It's important to monitor your site in order to see how well your efforts are paying off. If you don't monitor activity, you'll never know exactly what could be improved or if what you're doing is actually working. Check out our ideas on some great tools below.
Hubspot's Marketing Grader
This website grading tool is incredibly valuable and comprehensive, rating your website on everything from social media shares to incoming links. You'll gain valuable insight into many different things that search engines take into account for rankings and will also be given ideas on things to improve.
Google Analytics
This tracking tool is something we recommend utilizing on a weekly basis. GA will give you stats on everything about your visitors, telling you how many people visited your site, how long they stayed there, how many pages they looked at, where they are located geographically, how they got to your site, and so much more. This is the absolute best way to learn more about who your visitors are currently.
Google Webmaster Tools
This handy tool will give you more information from the search engines themselves. It can tell you about search queries that were made that lead to your site, sites that link to you, sitemaps, broken links, etc. This is another great tool to utilize!
SEOquake
SEOquake installs a neat SEO toolbar in your browser (Firefox, Chrome or Opera), and gives you information on your page rank, keyword density, and other valuable things. The toolbar is really handy and provides a great way to get information fast!
Rank Tracker
Rank Tracker is another way to check some stats on your site, you can see how your page ranks and get some great keyword ideas. It's always valuable to get different ideas from a few different sources so this is one worth checking out.
These tools are all valuable and insightful in gaining information about your visitors, keywords, traffic and many other factors. See which tools might work best for you by trying them and using them regularly. Using any of these tools will help you take a more proactive role in figuring out the best route for your website and gaining more visitors and traffic.
What's your favorite SEO tool that you use?
0 Comments »
No comments yet.
RSS feed for comments on this post. TrackBack URI
Leave a comment