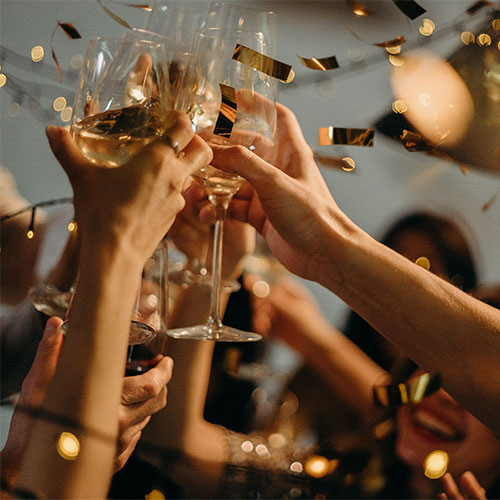 Our birthday celebration in October is always such a fun time to look back on our growth and all the successes we've had, as well as look forward to the places we plan to go in the future. It's also a time when we are just so thankful for it all. Thankful for the journey we've had, the people we've met, the clients we've worked with, and all the projects we've gotten to work on over the years. Thirteen years is a long time to be in business in this industry, but we are happy and thrilled to continue on with the same mission we've always had: providing high quality design and marketing that exceeds expectations. It's been a fun and wild ride and we can't wait to see what the next year has in store for us!
Some highlights from the past year:
We've launched some pretty awesome new websites and projects in the last year, everything from major website redesigns to new companies that want a small web presence or a logo to get them started. We keep a running list of everything that we've launched and created each year and it's fun to see the variety of industries we've worked with, the different styles and types of projects we've produced, and the many different locations our clients are located throughout the US.
We love working with new clients and learning about new companies, but we are most proud of our ongoing client relationships that we've maintained throughout the years. We've worked with countless people in our 13 years in business but some clients have been with us for most of that time.
We also continue to get referrals from our clients, which is another thing we are so proud of and happy to see. We love referrals and appreciate each and every single one of them.
We're also proud to continue providing a safe hosting space for our clients that continues to grow each year. Security, efficiency, and outstanding value are at the top of our list for our hosting space and we continue to work toward providing the best place we can for our clients and their websites.
Thank you for joining us on this journey! Whether you're a client of ours, a friend or family member, a colleague, or a Snoack Studios fan, we're grateful for you. Every project, referral, like, comment or share is seen, heard, and cherished from the bottom of our hearts. It's no small feat to be in business for 13 years, to continue to bring in new work and be as busy as ever, and we couldn't do it without our awesome community and your support. Thank you for being here and stay tuned for more great adventures and a whole lot of fun in the upcoming year!
Cheers!
0 Comments »
No comments yet.
RSS feed for comments on this post. TrackBack URI
Leave a comment