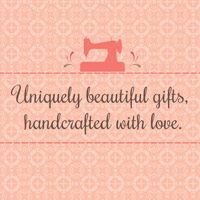 We recently completed a beautiful new brand for Nilsen's Nook, a sweet Etsy shop with adorable handmade items for babies, kids and adults. Nilsen's Nook sells personalized baby clothing, baby essentials (diaper bags, changing pads, etc.), headbands, vintage inspired lace rompers, memory quilts, embroidered wedding gifts, custom baby shower/bridal shower gifts, personalized totes and Bible covers. We wanted the brand to be whimsical and cute with a vintage vibe. So we chose bright colors, fun fonts, and added lots of great details to complete the look.
The Logo
We started with the logo, choosing a color palette that evoked a fun and child-like style but still kept a beautiful and vintage vibe in mind. Different pinks and greens were paired to achieve this look. We also used fonts that were whimsical and unique to contrast one another and add to the beautiful style. There are tons of details and adornments that we added in the logo that bring more whimsy to the logo, and also add to the handcrafted feel including the detailed flower symbol at the top, the sewing stitch line at the bottom and the other loops and adornments on the sides. Everything together completes the fun style and gives Nilsen's Nook the look they were after.
Business Cards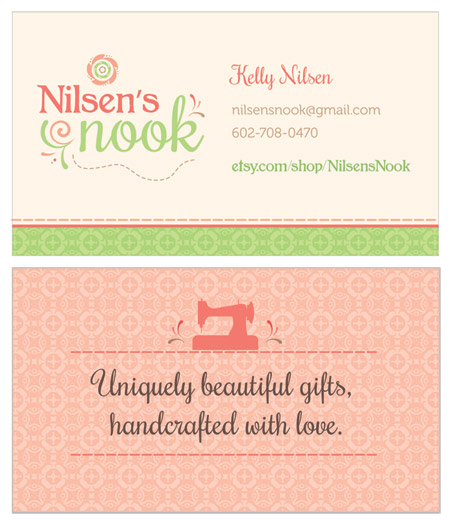 The business cards were next, taking style cues from the logo and continuing the great look. We added in some soft patterns and colors that complement the logo, including a vintage floral pattern on the front and back. We also echoed the sewing stitch line from the logo, to continue the handcrafted theme. A vintage sewing machine is seen pictured on the back along with the company's tagline, and we loved the look it brings to the brand.
Banners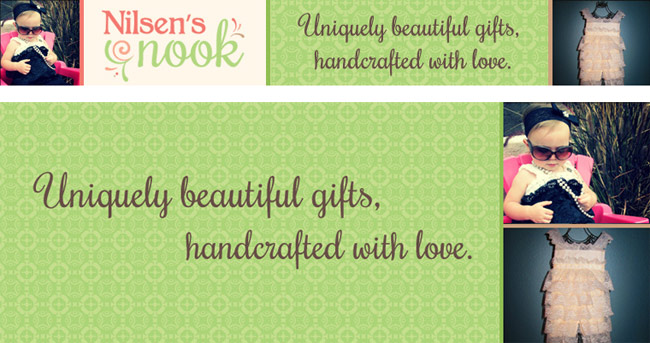 We also created a few banners for Nilsen's Nook to use on their Etsy shop and Facebook page, continuing the brand colors, patterns and fonts. We also incorporated some product photos that show off the cute items they sell.
Kelly Nilsen, owner of Nilsen's Nook, had this to say about working with Snoack Studios:
Working with Shannon and Snoack Studios was an absolute pleasure. Not only was I extremely pleased with the design and the outcome of the project, but found that working with Shannon to be both an easy going and professional experience. When creating the design she used small details such as coordinating my logo and business cards to my favorite color combinations that I have used in both my wedding and my daughter's nursery; I am sure no other graphic designers would pay that much attention to detail for each of their clients. Shannon and Snoack Studios have a way of making their clients feel special and like you are the only one the company is working with. Shannon took the time and care to ensure that the product reflected what I needed to create a successful small business, and her attention to detail, timeliness in creating samples, and quick responses to any questions will ensure that I will only use Shannon Noack with Snoack Studios for all future graphic design needs. If you are searching for a positive, creative, and overall amazing graphic designer, I urge you to consider Snoack Studios, you will not be disappointed.
Thank you Kelly! We had so much fun working on this new brand as well. Check out Nilsen's Nook on Etsy, you'll love all of her beautiful creations. And let us know what you think of the new brand in the comments below!
4 Comments »
Thank you Shannon for writing this piece about our small business! I really loved working with you!

Thanks Kelly! I had fun working with you too!

Love! Both of you girls are SO creative and talented. Awesome job.

Thanks so much Heather! Glad you liked it!
RSS feed for comments on this post. TrackBack URI
Leave a comment