We recently completed a stylish new look for Heirloom, a new boutique catering & event design company based in Falls Church, Virginia. We designed an elegant and vintage look that speaks to the company's name, Heirloom. They curate beautiful and stylish events, designing the whole experience for weddings, galas & social parties. They plan upscale yet casual events with seasonal menus that utilize fresh, local food, and rustic, trendy and creative event themes, as well as elegant and beautiful decor.
The logo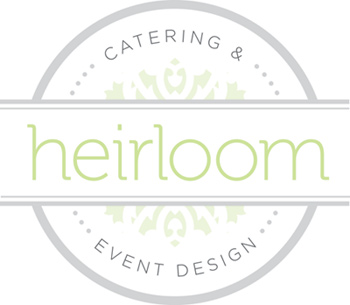 We wanted the logo to showcase the vintage and old-fashioned aspect of the name, Heirloom, while also displaying a company that is modern, chic and upscale. We choose 2 modern and elegant fonts that present a timeless and stylish look for the brand and complement each other well. The design in the background gives the logo its vintage and rustic quality. We brought it all together by setting it in a circular, stamp-like design, which gives it a unique and compact look that will allow the logo to be used anywhere.
The website design

The website design for Heirloom is modern in style as it utilizes a long one page layout which is very trendy right now, but also showcases their great mix of rustic & modern styles with muted watercolor images of fruit and flowers set against beautiful food photography, a great mix of font choices, and lots of style elements that tie everything together.
The main style element of the design is the watercolor imagery that can be seen throughout the site in a few different muted colors. We chose a few different patterns to use throughout that showcase fruit and flowers, to bring together the catering and event styling aspects of the company. All of the call-to-action buttons are large circles that are eye-catching but unique in style because of their shape, size, and how they overlap other elements of the site. The circular shape was chosen to echo the design of the logo. A few different fonts were chosen and have been mixed and matched throughout the site. The main headline font, Serif Gothic Bold, has a unique look and pairs well with the cursive font, Meddon, that we've used minimally throughout the site as an accent font. The two fonts from the logo, Raleway and Museo, are also used throughout as body text and some accent text as well.
Business cards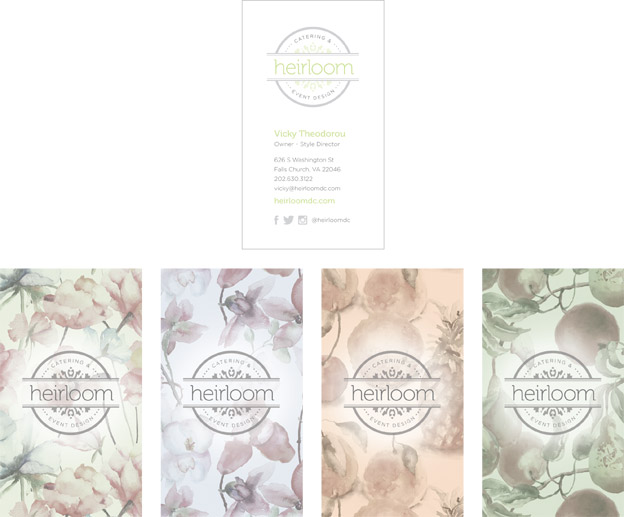 The business cards were printed with MOO, who allow you to use different images on the back of the card (as many as you like), so we chose a few of the watercolor images from the website to use. The styles, colors, and fonts on the cards all echo the website styles, carrying along the brand look and imagery.
Testimonial
Vicky Theodorou, Founder & Style Director of Heirloom, had this to say about working with us:
Having worked with Shannon and Snoack Studios for over 5 years now it's safe to say they never fail to impress when it comes to creativity, ease of working together, consistency and timeliness! Aside from Shannon's kind and caring demeanor, she is a real talent when it comes to design. Snoack Studios brought my brand and vision to life for my boutique catering and event styling company, Heirloom, with her logo and branding work and website design. She married the need for an aesthetically pleasing design while keeping the importance of the ease of use and user experience in mind — all while being extremely timely and responsive and ALWAYS so nice! I love my website and I love working with Shannon! I look forward to the many more successful projects she will do an excellent job with ahead!
Thanks Vicky! We loved working with Heirloom on this project and absolutely love how it all came out! If you're in the Falls Church or greater Washington DC area and need a beautiful event planned, give Heirloom a call to see how they can help. Check out the website as well and let us know what you think of their new look!
0 Comments »
No comments yet.
RSS feed for comments on this post. TrackBack URI
Leave a comment