We recently launched a great new website for a fun and family-friendly diner in Rockville, Maryland: Ted's 355. We designed their logo, business cards, and menu cover first, and then moved onto the website.
The restaurant has received rave reviews since they opened last year, and features a great diner-style look and feel with food choices for anyone! We wanted to reflect their East Coast roots, family-friendly atmosphere and fun-loving diner attitude through the style of their new site. Check it out at teds355.com.
The Design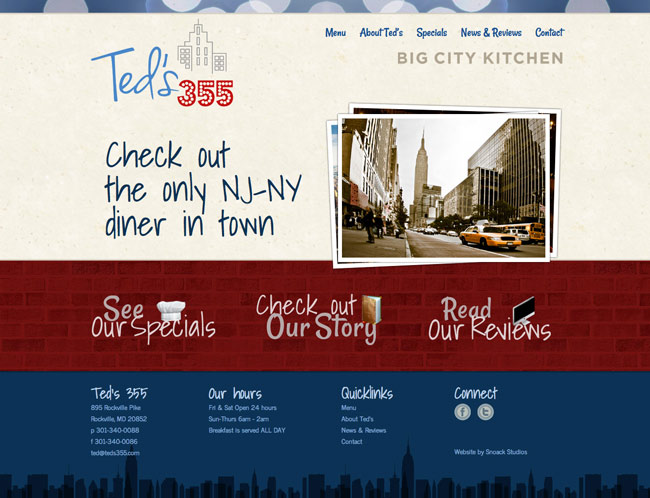 We wanted the overall style of the site to showcase this great new diner for who they are, and make people want to come check out the fun for themselves! We paired together a few modern fonts, some bright splashes of color, a collection of great photos, tons of textures, and other little details that helped achieve the look we were after.
We used Google Webfonts to bring in 3 great fonts that are used throughout the site. They provide a lot of character, giving the site a homey and feel-good vibe. The textures used throughout range from bricks and slightly gritty paper, to bright lights and a cityscape, so you get the feel of the city, as well as a bit of a modern diner sentiment. The colors also play a large role in the design, featuring a lot of darker colors in the textures, with bright red and vibrant blue from the logo used throughout as accents. We also chose some fun photos that are displayed on each page in a casual manner by overlapping a few photos, giving it a nice detail. Other great details are used throughout to complete the unique look of the design.
The website is run by WordPress, allowing the diner to edit and maintain the site easily. WordPress keeps the site secure and makes updates quick and easy!
We love how this site turned out – it's full of fun and tons of unique touches. Let us know what you think in the comments below – and be sure to check out the diner if you're in the Rockville, Maryland area!
0 Comments »
No comments yet.
RSS feed for comments on this post. TrackBack URI
Leave a comment