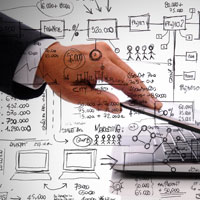 A blog can do wonders for your business: it's a great way to have shareable content for social media, have more searchable content for search engines, and provide a way for potential clients to get to know you and your craft. We've sung the praises for starting a company blog before.
Today, we've gathered together some our greatest tips on what you should and shouldn't do when running a blog for your company. Feel free to chime in with your own ideas in the comments!
DO offer an easy way to allow RSS subscription (we love Feedburner!).
DON'T forget to offer a way to subscribe by email as well.
DO use categories on your blog. It will help organize posts and allow users to see other posts in the same category.
DON'T use so many categories that people aren't sure what to click on or read next.
DO make it easy for people to share your content on social media sites with easy to use like, pin, share, and tweet buttons. Choose the ones that fit your industry best.
DON'T leave off social media buttons that direct to your own profiles, to offer users an easy way to connect with you elsewhere.
DO use headers throughout your text to break up the space and make it easy for people to scan if they want to (because if they can't scan, they might not read it at all).
DON'T leave out images from your posts, not only is it less enticing to read for us visual learners, but it's not as appealing to share content on Facebook or Pinterest if there's no image.
DO post regularly, to keep regular content on there and to entice people to keep coming back regularly.
DON'T forget about your target audience. Write content targeting those people specifically, choosing topics that will interest them.
DO share your own blog posts through your social media outlets, to promote your blog and increase readership.
DON'T neglect backing up your content regularly. Check with your hosting company to see if they offer a way to do this for you.
DO make sure to provide value through your blog – people will come back if they find it offers them something they need or want (resources, valuable knowledge, helpful tips, etc).
DON'T forget update your site if you're using WordPress or another CMS that requires regular updates.
DO make sure to have fun with it, blogging can be enjoyable and help you learn more about your craft and industry!
What are your best blogging tips? Share with us in the comments below!
4 Comments »
Thanks for the read this morning! I am searching for a "pin it" button right now so I can encourage readers to pin each of my photos from my blog. The only thing I have found thus far is http://wordpress.org/extend/plugins/pinterest-pin-it-button/ – have you heard of it?

Thanks!!

@McKenzi – You're welcome! Adding a Pinterest button is a really great idea (especially for such a visual field!), and that plugin does look nice. Jetpack also has an easy set of social media sharing buttons, and then they all look the same: http://wordpress.org/extend/plugins/jetpack. Let me know if that helps!

[…] Tool. Type in a link to a page/post that is under your author in WordPress, something like: http://blog.snoackstudios.com/blogging/business-blogging-dos-and-donts. You'll see something like this if your test was a […]

[…] Running a business blog can be an excellent way to keep in touch with customers, show your expertise in your field, and get more traffic to your site. There are tons of benefits from it! […]
RSS feed for comments on this post. TrackBack URI
Leave a comment