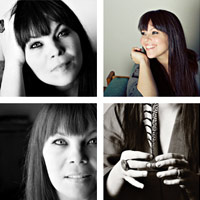 Snoack Studios is bringing you a series of interviews over the next couple of months from a group of talented, passionate, and incredible professionals and entrepreneurs that run successful businesses. We'll pick their brains with a few questions about what they do and how design plays a part in their business.
Today is our first interview, and it's with Danielle LaPorte, the lady behind WhiteHotTruth.com. She is a vibrant woman with lots to say, so check out our short interview below. And while you're at it, stop by her site and check out what she has to offer you today!
Please tell us a little bit about your business and what you do.
WhiteHotTruth.com is about self-realization and livelihood. My latest offering is The Fire Starter Sessions, a digital program for entrepreneurs — and it's very hot stuff. I work 1 on 1 with entrepreneurs as a straight-talking, compassionate strategist.
And I speak, on stage, about authenticity and entrepreneurship and share my experiences from ashrams to raising venture capital. Life is good.
How important do you think good design is for a company?
Essential! Critical! Aesthetics are a language that every business needs to be fluent in order to reach the emotions and senses of it's customers. And besides, making beauty is more fun. Always.
How would you describe your site design? Do you love it?
Straightforward. Logical. Warm. Contemporary — like me. And yes yes, I love it, I only put what I absolutely love into the world.
What kind of role did you play in the development of your site, were you very hands-on or did you hand it over to a designer and just let them create?
Creative control freak sums it up. Down to the pixel. Thankfully my web guy is both flexible and shares my love for simplicity. We're good together.
Does your site fulfill everything you're looking for in a website? Anything you would change if you started over?
yes. no.
my site is a living entity. I'm improving it all of the time.
Any sites you've seen lately for a business/company/entrepreneur that are just awesome?
Depends how you define awesome. There's awesome content. There's awesome aesthetic design. And there's awesome user interface. Hard to find all three in one place. That said…
I do love:
http://the99percent.com/
http://sethgodin.typepad.com/
http://www.springwise.com/
http://www.jonathanfields.com/blog/
http://www.communicatrix.com/
Thanks for the interview Danielle, we loved hearing what you had to say! Stay tuned for more interviews from other great business owners and entrepreneurs. If you have someone that you think we should interview, send their name our way, we love meeting new people!
Tell us what you think of the interview in the comments below.
0 Comments »
No comments yet.
RSS feed for comments on this post. TrackBack URI
Leave a comment