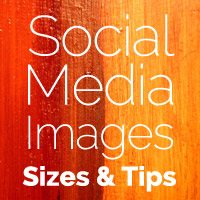 Each social media site has different image areas that you can take advantage of with your profile, showing off your branding, creativity and unique look! It can be hard to keep track of what's available in each place and what sizes are best for each different site. So we've gathered together information for a few of the top social media sites including placement and sizes (in pixels, correct as of today's publishing, but keep in mind they change frequently!), and some tips on what to include in these areas. Feel free to add your own tips in the comments below!
Facebook Page
Profile Picture: 180 x 180 – Keep it simple, just your logo or a picture that makes sense when used with your status updates throughout the site.
Cover Photo: 851 x 315 – Make this striking! It's the first thing people will see when they visit here and it needs to capture your users without being too busy.
Custom App: 810 wide – Custom apps can be used for anything but allow you to give your users more information about who you are and what you do.
Twitter Profile
Background: This can be any size and can be aligned top left and fixed, or repeated throughout. Use this space for information on the top left, or a texture/image that fits in with your branding.
Profile Picture: 81 x 81 – It's best to keep this one simple as well, these small spaces don't allow for much!
Header Image: 520 x 260 – This has text on top of it and fades darker at the bottom, so a picture or texture works well here, although nothing too intricate so the text can still be legible on top.
Google+ Company Profile
Profile Picture: 120 x 120 – Keep this simple as well, just your logo or a nice image that can standalone to represent your company. Keep in mind it's circular, so leave some space around your logo for cropping.
Cover Photo: 2120 x 1192 – This image is massive, so you'll want to choose something that looks nice large and scaled down to a smaller size. You can include a tagline or some text in with the image as well, but it's best to keep it simple, direct and visually striking.
LinkedIn Company Page
Horizontal Logo: 100 x 60 – It's best to use just your logo for this space, as it's small and used at the top of the page.
Cover Photo: 646 x 220 – This can include a more striking photo and a tagline if you like, just like the other cover/header images.
For a complete and extensive list of ALL images that you could use in any social media site, check out this impressive infographic!
1 Comment »
[…] social media site allows for different things (see our post on social media image sizes and tips), and we have lots of ideas to help you create a unique space that your customers will love. Your […]
RSS feed for comments on this post. TrackBack URI
Leave a comment