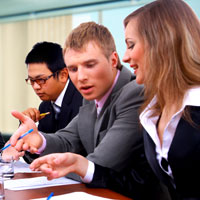 Coming up with ideas on what to post on Facebook, Twitter, LinkedIn and your other social media profiles can be tough sometimes, especially for those that are new to using social media for their business. We've compiled a quick list of great content ideas that should help get you started. It's best to remember though, social media is all about interacting and connecting, so the real question you should ask yourself is: What's going to make your audience interact with you? That will help you get started on generating real and relevant content for your audience that they will appreciate and value.
You can post..
Resources your clients or potential clients can use and would find helpful
Employee bios and why they love working there
Glowing testimonials from customers
Pictures of your office space so you can show off your great digs
A blog post that will address a question a client had for you
A resource supporting why to use your products
Research or studies done in your industry
A contest where you give away some free stuff
A question about what their favorite product of yours is
Projects that your company has completed or worked on
Funny quotes about your industry
Great things that your clients are working on or have achieved
Success stories from past clients
Industry news that's relevant to what you do
If you're having trouble coming up with content ideas, think about your target audience for your company and come up with things they would like to hear about. Make a list of ideas and you'll be off and running in no time!
What other ideas do you have on things to post about on your social media profiles? Share in the comments below!
1 Comment »
[…] Great Tips for Getting Started with a Facebook Landing Page Design Getting Started With Blogging Int… […]
RSS feed for comments on this post. TrackBack URI
Leave a comment