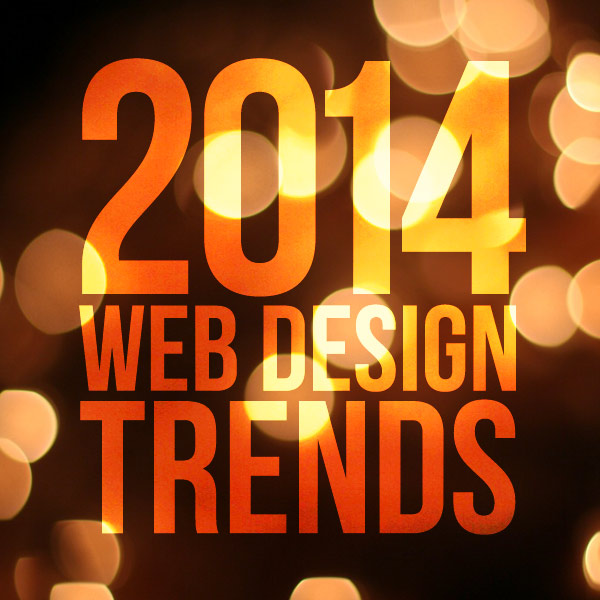 The new year is here and we are sure to see all kinds of great things happen in the web design world this year! We've gathered together some predictions and thoughts on what's sure to be trending as the year takes off.
Last year we saw a huge jump in the number of responsive designs out there, as well as more great fonts being used, tons of growth by Google Chrome and lots more video usage. What will it be this year?
Simplistic Design
Flat design is really in right now. It's simple, clear and communicates well. Website designs overall are being simplified and making use of tons of white space. Complex is out, simple is in for 2014.
Large Fonts
We are seeing some really massive (and awesome) typography use lately. And along those same lines, people are starting to pair together more great font choices (see some great free fonts from Google Font that you can use), making typography take center stage as a graphical element in the design.
The Disappearance of Flash
Flash has been slowly declining since Apple doesn't support it anymore on several devices. But with increased mobile usage, people are now wanting things to load quickly and easily, getting them where they want to be without all the fuss of Flash. You'll see interactive and animated features being implemented with Javascript and CSS3, keeping the focus on user-friendly features and fast-loading scripts.
Vertical Scrolling
With the rise of Pinterest, vertical scrolling has risen in popularity as well. People are no longer wanting everything above-the-fold, it's more important to get the look and style you want with Pinterest-inspired load functionality and all the content users need.
One Page Websites
Along those same lines, one page websites are huge right now too. Lots of parallax scrolling and awesome effects can be integrated to help make the jump between sections feel special and animated.
Better Mobile Functionality
More and more users are using their phones and mobile devices to surf the web, so websites are continually changing to accommodate the different needs of mobile users. Responsive design will continue to grow and other mobile functions will see growth this year as mobile users keep increasing.
What are your predictions for what will be huge on the web this year? Share with us in the comments below!
0 Comments »
No comments yet.
RSS feed for comments on this post. TrackBack URI
Leave a comment