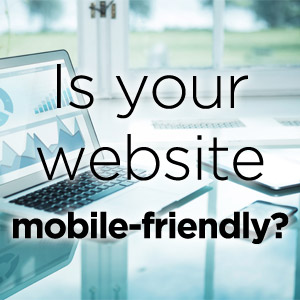 In late April, Google rolled out a new update that gives higher priority in search results on mobile devices to mobile-friendly websites, making it even more important to make sure your users can surf your website easily on a mobile device. With this update, Google hopes to give mobile users the best, high quality search results that enable people to find things that are tailored for their device and screen size.
Test your site
One of the great things about this update is that Google made it really easy to check if your website passes the mobile-friendly test. If it doesn't, it's time to update to a mobile-friendly website so you don't lose your placement in search engine results.
Why make your website mobile-friendly?
Making your website mobile-friendly has been a growing trend for years for anyone with an online presence because of the growing amount of mobile users surfing the internet. Without a mobile-friendly website, it's more difficult for users to find the information they are looking for when they visit your site on a mobile device. They need to zoom in to click on things, scroll around to read information, and it generally just takes longer is more frustrating to find what you're looking for.
In the USA, 94% of people with smartphones search for local information on their phones.
What makes a website mobile-friendly?
A mobile-friendly website is easily viewed on a mobile device and either uses a design that was specifically created for a small mobile device or uses a responsive design, which is a type of design that responds to your browser size and works well on any size screen.
Google uses these guidelines to define a mobile-friendly website:
Avoids software that is not common on mobile devices, like Flash
Uses text that is readable without zooming
Sizes content to the screen so users don't have to scroll horizontally or zoom
Places links far enough apart so that the correct one can be easily tapped
How can you make your website mobile-friendly?
We recommend using a responsive design, which allows your site to respond to the browser size and will work well on any size screen from a desktop computer to a tablet or a smart phone. Responsive designs pass Google's mobile-friendly test and allow you to have 1 website to update that appears appropriately sized on the device you visit it on.
You can sometimes change the current site you have to be mobile-friendly by altering the code to include responsive styles. Or, this might be an opportunity to create a new website altogether, cleaning up the content you have so it's easily accessible for everyone.
Get in touch with us if you have any questions on creating a mobile-friendly website, we would love to help!
0 Comments »
No comments yet.
RSS feed for comments on this post. TrackBack URI
Leave a comment