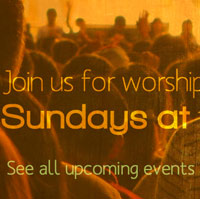 We recently launched a great new website for Briarwood Baptist Church in Cordova, Tennessee and cannot wait to tell you more about it today in our post! We started with their new brand a few months ago and finished up with this new website in January. We absolutely love this new site, from the vivid colors and warm textures to modern typefaces and great photos, it all came together so beautifully. Briarwood is composed of a wonderful group of people and we think this new site describes their warm atmosphere so well. Check it out at briarwoodchurch.net and let us know what you think!
The Design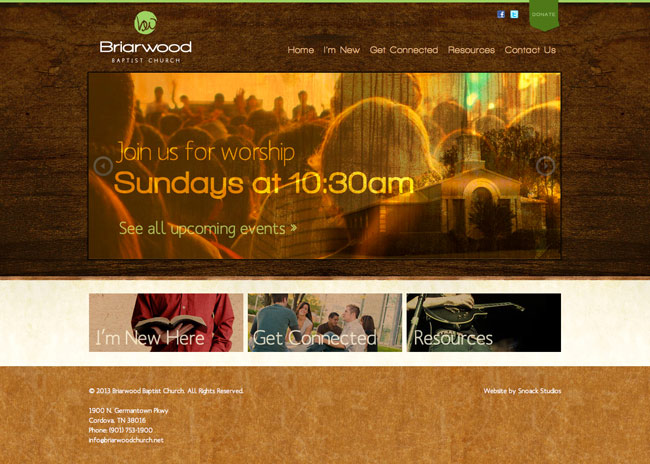 The marketing materials we designed used a lot of warm textures, and we continued those into the website, giving the design a very friendly and welcoming appearance. The bright green color from their logo is also used throughout the site, as an accent color and it provides a nice bright, cheery touch. We also continued their branding fonts throughout the website, using the two san serif fonts to give a nice modern feel. We love the unique touch that this brings to the website.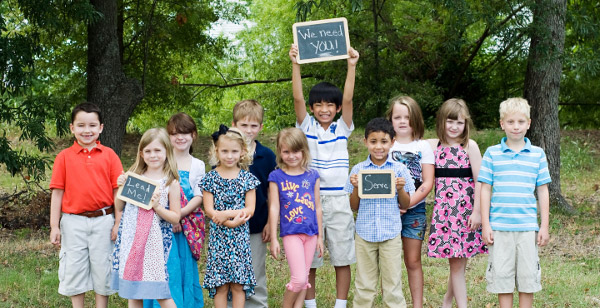 An additional element that you'll see in the new website is friendly and vivid photography, adding a nice image on most pages of the site. Visitors are welcomed with smiling faces, happy kids, and a cheerful atmosphere.
Great Features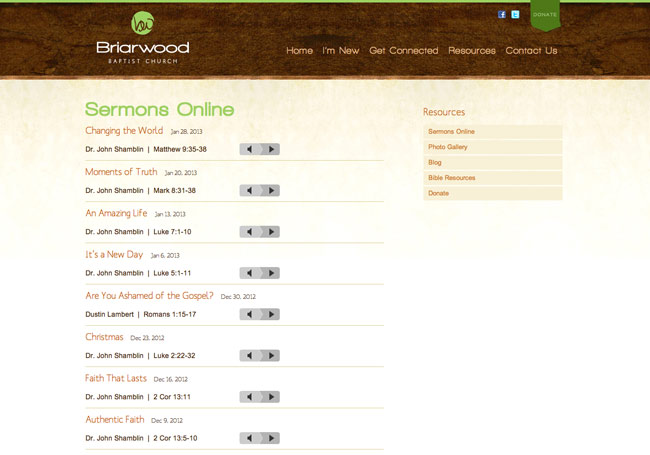 The site is run by WordPress and they love being able to edit and maintain the site on their own. We also set up a great Online Sermon area that allows far-away visitors (or those that couldn't make it that day!) the chance to stay up to date with each Sunday's sermon. Our custom setup organizes each sermon by date, including some information on each one, and you can listen to it right from your computer online.
The blog is a new feature for Briarwood with this new site that WordPress easily allows for, giving them the opportunity to post updates, answer questions, and speak from the heart. We already love their first few posts!
Testimonial
Ken Ilari, Pastor of Worship and Education at Briarwood, had this to say about working with us:
Working with Shannon on our new church logo and website has been great!  She is exceptionally easy to work with, very professional and very talented.   She was very patient with us when things bogged down on our end gathering information and she kept guiding us along the entire process.  The end result has been a great boost for our church – both in the excitement from the congregation and in the new look we now have in the community.   We could not be happier with the end result.  I highly recommend Shannon and Snoack Studios for both the graphics/logo design and web site work!
Thanks Ken! We had a lot of fun with the project as well, and are so excited to see the implementation of it all. Check out their new site and let us know what you think in the comments area below!
2 Comments »
Hi Shannon,

Great website! I love the clean layout, and the custom right sidebars really help with keeping the layout and navigation simple.
We also often use Easing Slider, a light user-friendly WP Plugin, particularly useful when the client needs to edit the slider 'in-house'.
Good to see, thanks!

@Sarah – Thank you! We love Easing Slider as well, very user-friendly for our clients! It's definitely a great choice for a light-weight and quick slider plugin. Glad you enjoyed the site, and thanks for stopping by!
RSS feed for comments on this post. TrackBack URI
Leave a comment