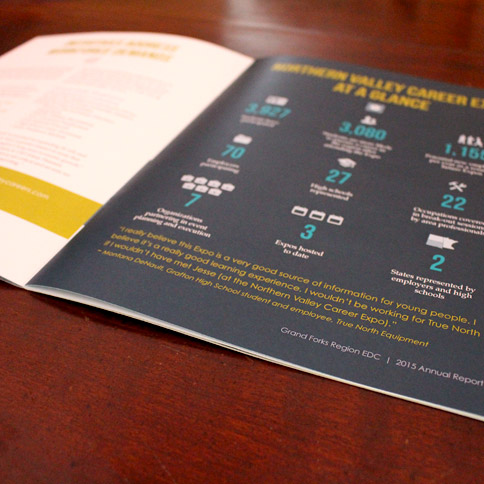 Earlier this year we completed a print project for the Grand Forks Region Economic Development Corporation's annual meeting. First, we added some additional fonts, colors, and ideas to their brand standards to rejuvenate their style and give them a broader scope of ideas to choose from when creating new marketing pieces. Then, we applied those new ideas and designed their annual meeting marketing pieces, an invitation and a 20 page annual report. The idea was to have a very professional and clean appearance with a flat design style and infographic look throughout.
The project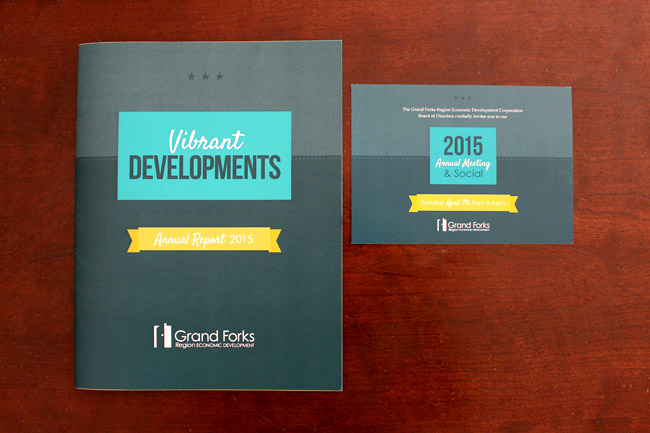 The annual report cover and invitation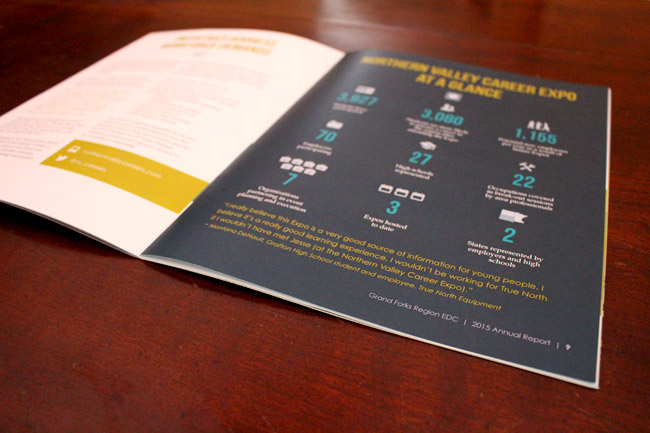 An inside spread on the Northern Valley Career Expo
An inside spread with an illustrated map of the city and their 2014 projects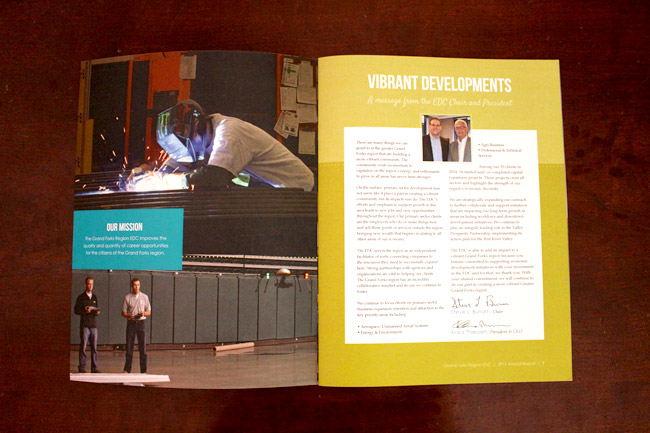 An inside spread with some large images and a letter from the EDC Chair and President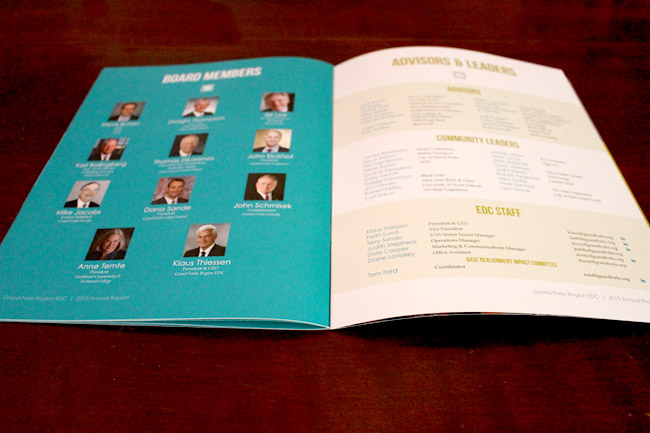 An inside spread with the board members and other leaders and staff
The entire project is vibrant and colorful as well as elegant and professional. Large blocks of color can be seen throughout the 20 pages of the annual report as well as the invitation in a bright turquoise, lime green, and navy blue. The vivid colors set the stage for the whole design. The pieces use the flat design style that they are looking to use for all marketing pieces moving forward, giving it a modern and clean look. Many of the pages have an infographic style, displaying numbers and information with graphics and icons to give them an interesting visual look. In their new brand standards, we also created a bunch of icons for them to use on all marketing pieces, and these icons can be seen throughout, adding to the graphic appeal of the project. The fonts and colors we used were taken from their brand standards that we helped rejuvenate, some old and some new choices that were brought together for a great cohesive look.
Overall the project is clean and stylish and the Grand Forks EDC received many wonderful comments at their annual meeting. We enjoyed working on the project and love seeing a great project like this come together in print! Let us know what you think in the comments below!
0 Comments »
No comments yet.
RSS feed for comments on this post. TrackBack URI
Leave a comment