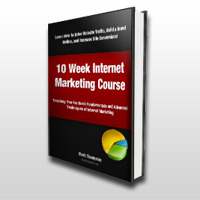 StayOnSearch.com, a great blog that offers search and social media marketing tips and resources, is now offering a free 10 week internet marketing course. This course is comprehensive and has something to offer for marketers of any level. This detailed look at internet marketing is smart and includes tons of great topics including SEO, online advertising, market analysis, social media and link building to name a few. It's a great resource and educational opportunity for anyone or any company that wants to ensure their website is working hard and getting the maximum amount of exposure.
Marketing your company and brand online is vital these days in order to compete, and learning how to do it properly and powerfully is important. Small business owners need to wear many hats in order to run a successful business and internet marketing is a great skillset to add to your toolbelt.

The class spans 10 weeks and covers tons of valuable topics:
Week 1 – Strategy: Understanding Your Goals and Setting Expectations
Week 2 – Market Research & Analysis: Know Your Target Market Before Spending Marketing Dollars
Week 3 – Paid Search: Using Pay-Per-Click Strategies to Drive Relevant Traffic that Converts
Week 4 – Search Engine Optimization: How to Gain Free Exposure and Traffic Through SEO
Week 5 – Content Creation: Creating Compelling, Valuable, and Viral Content
Week 6 – Link Building: How to Find Quality Link Building Opportunities
Week 7 – Local Search: Capturing Localized Traffic to Your Website
Week 8 – Social Media: Build Your Brand, Drive Traffic and Form Relationships Using Social Media
Week 9 – Making Money: How to Monetize for Your Website or Blog
Week 10 – Website Analytics/Testing: Understanding Your Audience and Increase Conversions Using Web Analytics
Bonus – Tools of the Trade: The Internet Marketers Toolbox
If you're an experienced internet marketer, there is even something for you in this 10 week course. Covering everything from SEO to monetizing your website, there is something for everyone, giving you valuable tips on where to start and how to continue growing your site and marketing your brand online. Continual education is a valuable and an important part of owning a business, and you can't find a greater value for your money or time.
Check it out today at StayOnSearchCourse.com. If you're participating in the course, I'd love to hear your thoughts in the comments below.
0 Comments »
No comments yet.
RSS feed for comments on this post. TrackBack URI
Leave a comment