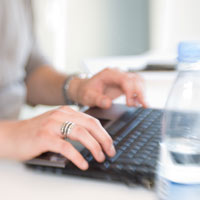 Blogging is an excellent idea for businesses for so many reasons. It's a great way to have more searchable content online for search engines, users can read more about you and your services, it shows your professional knowledge of the industry you're in, and so much more. But if you don't have visitors to your blog, your great content can go to waste.
Social media provides the perfect opportunity to promote your blog and gain more visitors. We have some great promoting tips, which will hopefully increase visitor traffic and expand your business!
Facebook
Facebook has a lot of opportunities to share your posts in different ways, here are some ideas:
Auto-share your posts so that when it's published, it automatically goes out on your business page feed.
Share that post from your profile, or like the blog post itself so that it goes out from your personal profile as well.
Add a tab on your page that contains all of your blog posts, so that people can look through them all at once without having to wade through your other wall posts.
Twitter
Twitter also provides some great opportunities to connect with a different group of people in different ways:
Make sure to setup an auto-sharing feature to automatically posts your articles here as well.
When new users follow you, send them your most recent blog post and ask that they check it out.
LinkedIn
LinkedIn shouldn't be overlooked for sharing blog posts, as it's another avenue for potential traffic and visitors:
Setting up an autosharing feature here is a great idea as well.
Add an RSS feed tab to your company page, it'll gather all of your posts in one place for visitors that land there.
Google+
Google+ is still gaining traction, and provides some great SEO benefits for posting there:
At this time, it's still best to manually post your blog posts on your Google+ Business Page, but worth the extra effort for the additional search-ability.
You can also +1 your blog posts from your personal profile, getting it out there to even more people.
Other ideas
Every social media platform provides a different audience and a different way of sharing. Some of these other ideas can apply to multiple places:
Encourage others to share your posts with easy sharing buttons on your blog.
Run a contest on a social media profile and ask people to comment on your blog to win.
Comment on other peoples social media profiles and leave a link to your blog for them to check out.
Post older blog posts that might be relevant to a certain topic, which is a great way to reuse old content that might be buried.
When someone asks a question on your social media profile, or someone's else's, answer it with a blog post of yours that details the solution.
We've only covered the 4 big social media outlets, but there are far more ways to expand the reach of your blog and tons of other social media applications to check out. Let us know how you share your blog content through social media and if you have more ideas to add to our list!
1 Comment »
[…] Promote Your Blog Through Social Media Growing Your Audience: How to Increase Your Social Following Guy Kawasaki: 10 Tips for a Huge Social Media Following […]
RSS feed for comments on this post. TrackBack URI
Leave a comment