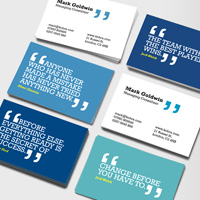 Most people know the value in having good business cards – it's often the first impression people have of your business when you meet them in person. Picture this, you've met someone in person, and told them all about your great business and how you offer premium services and quality products. Then you hand them a less-than-amazing business card on thin paper. The picture you've painted doesn't match the card you're handing out to represent your company, so the pitch you've just made falls short. The fix for this scenario is pretty easy, make sure your cards match the kind of business you want to present.
Great business cards aren't a fix for less than stellar products and services, of course. But they can represent the kind of company you know you have, and sell people on the fact that they need to remember you and get in touch with you later. MOO cards offer a great opportunity to give that lasting impression you're looking for because they offer quality printing and nice, thick paper that gives the impression of quality.

Printfinity
The really unique thing about MOO cards though, is something they call Printfinity – you can have a different back design for each card in your pack. This is a great option for people that want to showcase products, portfolio items, or pictures but can't choose just 1 to use. It gives your cards another visual element, which is also important when trying to stand out from the other cards out there. And when marketing and success in business is all about standing out, this is a great opportunity to do just that.
Print Options
MOO offers different sizes of cards, allowing you to get the traditional size or a mini card that's half the size. Mini cards are always fun to receive and seem more special because they're different than the rest. You can also get postcards, greeting cards, stickers, and labels. Tons of options for many of your print marketing needs!
MOO has a bunch of templates to choose from, or you can upload your own design to print whatever you like, so there are many options for getting your very own MOO cards.
After hearing lots of talk about MOO cards, Snoack Studios recently ordered some traditional size cards and we couldn't be happier with them! We used the front to list out our services, and added a bit of design style and fun on the different backs. Check out their site to see what they have to offer, we think you'll be pleased with any products you do order.
Has anyone else ordered from MOO? Let us know what you think in the comments below!
0 Comments »
No comments yet.
RSS feed for comments on this post. TrackBack URI
Leave a comment