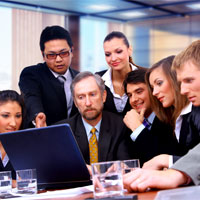 We're not talking about email marketing today (although we do love email marketing!). We're talking about ways to market your company with your email itself. Continually marketing your company is a challenge and a necessity for any business, and it's a great idea to take advantage of those easy opportunities that are often free or cheap to use. Using your domain for your email address is one of those things, and is often included in your hosting for your website so you're already paying for it. Equally important and often overlooked, is the use of your email signature and using it to full advantage.
Using Your Domain For Your Email
I've seen too many companies miss out on this great marketing and promotional opportunity by creating an email address with @gmail.com or @yahoo.com. Using your domain for your email address provides so many benefits for your company and shows a more professional appearance, which is always important as a business. For example, our website is snoackstudios.com and our emails include that in there: hello@snoackstudios.com. Think of those times when you email someone and they don't know who you are, or when you're included on a group email and the others in the group don't have your business card. I often check out websites of people in both of these instances, and if I find that I need the services of the person on that email, I'll get in touch with them about their company to talk more. I am often disappointed when I find a list of professionals on an email with a bunch of non-domain emails. I would have looked at their website, but they lost out on that opportunity, and you want to make sure you're not in the same boat.
Using your domain for your email doesn't mean you have to use a sub-par email system that might come with your hosting. Setting up a POP email is fairly easy these days and there are tons of tutorials online for many different email applications if you're unfamiliar with the process. We use Google Apps here at Snoack Studios, so we have the power of Gmail, paired with the benefit of using our domain. But if you're more comfortable with another email application, set up a POP email there and use what works best for you.
Email Signature
Another easy marketing opportunity is through the use of an email signature. I send tons of emails each day, some to people that have no idea who I am. My email signature on each of these emails has my name and title, links to the Snoack Studios website and blog, Facebook page, Twitter profile, and LinkedIn page. Now, anyone that receives an email from me can easily see everything about my company and connect with me in the area that they prefer. The greatest missed opportunity of all is when you don't use your domain for your email AND you don't have your website in your email signature. I can't tell you how many times I've been disappointed to see this!
Get started with both of these very easy and possibly free marketing opportunities today! Once they're setup, they are working for you and you don't have touch them again in order to keep getting rewards from them. And that is really the perfect type of marketing!
0 Comments »
No comments yet.
RSS feed for comments on this post. TrackBack URI
Leave a comment