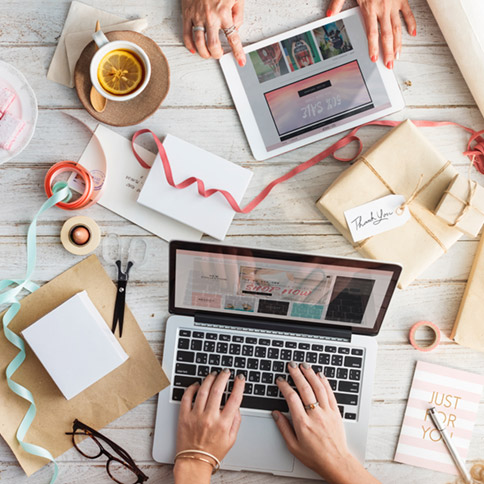 You've worked hard on planning, designing, developing and finally launching your brand new website, congratulations! The hard work is over, right? Well, now you need people to visit it, but how do you get users to come? You need to get the word out there to people that need your product, service or message. Marketing a new site and finding the right people that will be interested in what you're doing can be challenging, so we've put together some tips and ideas for you, to help get you started and on the road to success with your new site!
Search Engine Optimization
First, make sure your site is in tip-top shape for search engines and users. Check out our tips on SEO that you can do on your own, or think about consulting a professional to make sure your site is keyword-rich, your content is relevant and overall it includes everything you need it to.
Google My Business
Create your free business listing on Google My Business. This is the listing that will show up in Google when people type in your business name, so it's important to be as thorough as possible with it. Plus, it's free and gives you more bang with Google searches.
Get social
Social media is a great place to connect with other professionals and consumers that may need your services. Decide what will work for your business and sign up for profiles with Facebook, Twitter, Instagram, LinkedIn, Google+, Pinterest or whatever makes sense for you and your industry. Start connecting and sharing, and only sign up for profiles that you can stay active with. An inactive social media profile doesn't look professional so it does you no good.
Get your business listed
List your business on as many business listings as you can find that are relevant for your industry. Yelp is a great place for most businesses, Houzz is great for architects and other home professionals, and Behance is great for designers. Seek out industry-specific listing sites and sign up for an account.
Start blogging
Blogging is a great way to get more shareable and searchable content on the web. It shows people that you are an expert in your field and allows them to have more things to read on your site. Share your posts on all of your social media profiles to get them out there, and boost or promote them (paid/sponsored posts) where it works for you and your budget to reach more people.
Look into advertising
Most of the above ideas are free and only require some time and effort to get them set up. Once those are all in place, you might think about extending your reach with online advertising with places like Google Adwords or Facebook. There are tons of places online where you can advertise, so look into different options and find what works best for your company, your industry and your budget.
Marketing your website is an ongoing process, something that takes time. Don't get discouraged if it doesn't happen quickly, and don't feel like you need to complete everything on this list right away. Give it time and complete things as it works for your company or group. Good luck, we hope this helps bring you success and lots of traffic for your website!
Let us know what tips and tricks you have to add to the list, in the comments below!
0 Comments »
No comments yet.
RSS feed for comments on this post. TrackBack URI
Leave a comment